We are locals! We'll find you the most reliable and feasible activities for your needs!
Budapest is a beautiful, safe city filled with life and one of the most popular destinations for a stag do weekends in Eastern Europe. With it's nightlife and a never-ending list of activities, you'll be ready to come back a second time. Fantastic girls, clubs, ruin pubs, and fun entertainment will take your celebration over the top. Check out some of the stag do reviews about Budapest and organize your Budapest stag party with us.
Budapest Stag Do Ideas

Top 6 Budapest Stag Do Activities
Strip Stag Do Activities in Budapest (these aren't sexual services)
Daytime Stag Do Activities in Budapest
Nightlife Stag Do Activities in Budapest
Budapest Stag Do Transfers
Budapest Nightlife and the Best Stag Do Places in Budapest
They say that when night falls, Pest comes alive. Budapest is full of bars, clubs, riverboats, and even some of the thermal baths which stay open late and party hard. Budapest also has a good amount of casinos. It is advisable to take some precautions when out partying late. Some places target tourists and force them to pay exorbitantly high bills. Do some research before you go to see which places have had complaints or contact us to organize your stag do party in Budapest. Or simply ask our guide about safe clubs.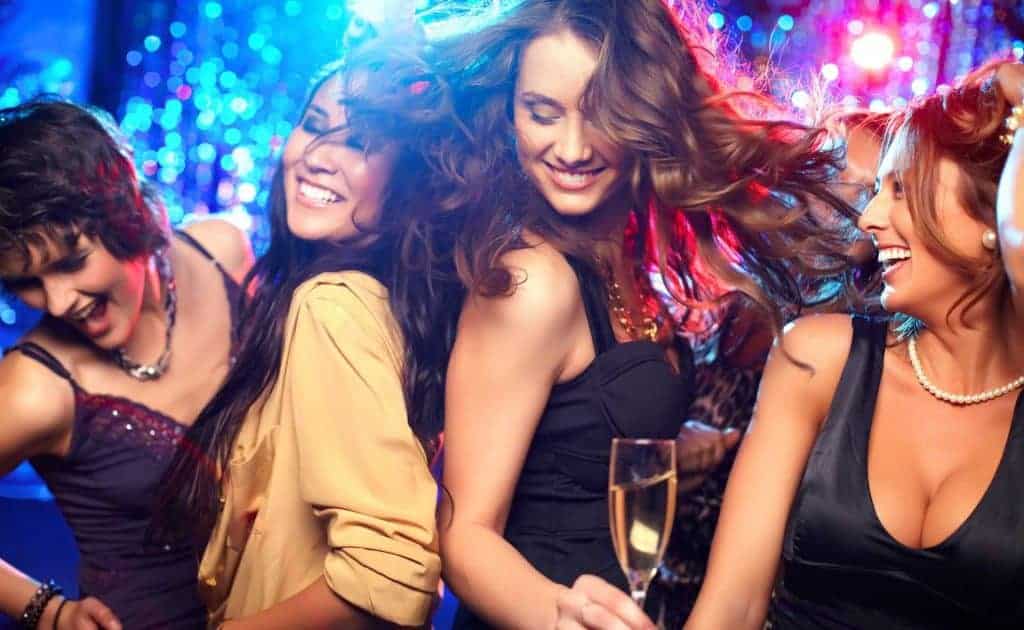 Summertime is one of Budapest's best times for nightlife partying. From pop-up bars in parks to "spartys" at thermal baths, summer brings in the best parties and the best DJs. Ruin bars and clubs are a great way to party hard in a piece of history. Created from the ruins of World War II, these bars combine bars, beer gardens, nightclubs, and cafes all in one. If you want to travel around to several bars and clubs getting involved with a guided pub crawl will be a great idea. This will give you a chance to try lots of different drinks and meet beautiful Hungarian girls. The best part is alcohol in Budapest is not that expensive, so you won't break the bank on your ruin bar crawl.
Some of my favorite stag do places to party in Budapest are Liszt Ferenc Square, Raday Utca, Baross Utca, near St. Stephen's Church, and the old Jewish district, now the VII district. Liszt Ferenc is best for the summertime with its open cafes and ruin bars. Raday Utca or the Soho of Budapest is a young informal place that's great for tasting Hungarian wines while Baross Utca is for the more alternative crowd. Around St. Stephen's Church is a newer district filled with the best bars, nightclubs, and more. The VII district will bring you to the most popular ruin pubs and best ruin bars in Budapest.
Stag Activity Types:
Celebrating with all your buddies is perfect for the endless stag activities of Budapest. No matter what your style, Budapest can provide you with great stag do opportunities. Your event will be so awesome, all your lads will be dying to come back for theirs! Budapest has all your normal stag activities like strip clubs and casinos with even more from the unusual to the Budapest specialties. You can get a discount if you choose package activities.
Adrenaline Stag Do Activities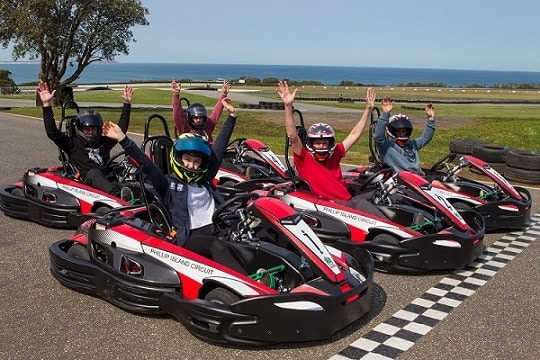 Budapest stag dos are perfect for getting the blood pumping. Budapest has plenty of exciting options, including shooting ranges, tank driving, escape rooms, clay pigeon shooting, and quad driving. Shooting ranges in Budapest offer both pistol fields and clay pigeon shooting. You can buy packages for your whole group. Some packages even include a free round of beer! Car shooting is exactly what it sounds like. You can unload an AK 47 into a ruined car, a great way to get your blood pumping.
If shooting isn't your style, you can try tank driving go-carts, and quad driving. If you are into puzzles or less active activities, an escape room would be perfect for your group. Escape rooms come with different themes and rely on puzzle solving to get out of the room.
Unusual and Funny Stag Do Ideas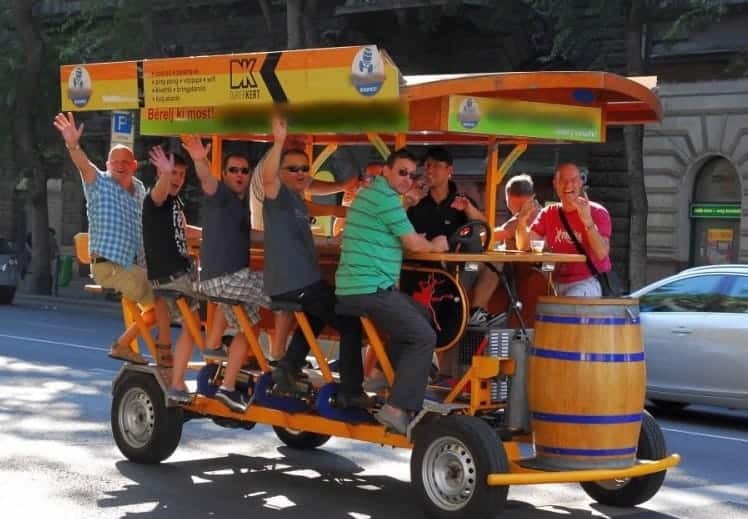 Budapest has its share of unusual Budapest stag do ideas such as bubble football, beer bikes, medieval dinners, Trabant driving, and riverboats. Air balloon rides are available all year and give you a fantastic view from the sky. Beer bike allows you to tour the city while drinking cold beer. It's like a pub crawl, but you never have to leave your seat! It's one of the best stag do activities in Budapest.
If you want to enjoy something unusual which will also get your blood pumping and body laughing, try bubble football. If you've never heard of it before, I suggest you look up bubble football on Youtube and prepare to laugh. Football is fun to play with your mates, but bouncing off of them and sending them rolling in clear bubble balls is even better. If you are a history buff or want to enjoy your medieval ancestry, enjoy a three-course meal at a medieval restaurant with shows included. Not only will you get to enjoy traditional medieval fun like a knight show and belly dancing, but you will get a strip show while you enjoy your huge meaty meal.
Stag Do Pranks and Packages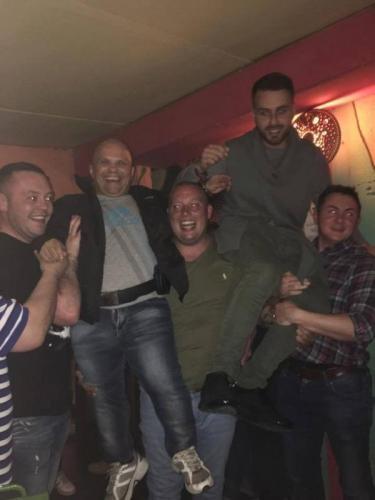 If you love to make your friends laugh or get surprise strippers involved, Budapest has some fantastic Budapest stag do pranks for you. My four favorites are the hitchhiker stripper, stag arrest, the sexy maid wake up, the rolly polly prank. If you're looking to give the groom a surprise, these four are sure to catch him off guard.
The hitchhiker surprise begins with a car ride down a road and a stop to pick up a seemingly normal girl. After you start driving again, the girl begins to take off her clothes and you don't know when she'll stop! The sexy maid wake-up prank is similar, but a maid comes to wake the groom up early in the morning. When he groggily opens the door, he finds a sexy woman in a maid outfit ready to strip down to nothing.
The other two pranks take a different turn. The rolly-polly prank also involves a stripper. However, this stripper has a few more curves to her body. You will enjoy this laugh though you may plan to book another, more slender stripper. The dwarf handcuff prank is amazing. A dwarf handcuffs himself to the groom for an hour. This is a great way to make a good atmosphere in your and to meet new people.
Only in Budapest Stag Weekend Activities and Stag Do Package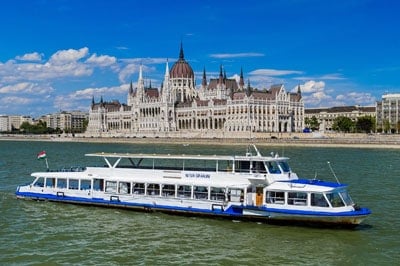 There are a few stag do ideas that only Budapest offers. Only in Budapest can you travel on a riverboat down the Danube to view the city centre at night with strippers. In Budapest, you can also let two strippers wrestle you in either mud or oil. Choose whichever medium gets you more excited and enjoy the show. Thermal spas are another main stag weekend attraction of Budapest. Relax from your exciting days and stag do night (and even help nurse your hangover) with the healing powers of the thermal springs. You can also ride around in style in a Hummer limousine or party boat.

Capital of Thermal Spas – The Hangover Budapest Stag Do Activity
Budapest's thermal springs are an integral part of daily city life and a must for visitors. Sitting on a collection of about 125 different springs, the thermal spas draw in all sorts of visitors for the baths' histories, architectures, and healing powers. It's important to note that whichever bath you choose, you should look up schedules before you go. Some baths are only open at certain times a day and seasonally. However, because they are thermal baths, some are open year-round. The pool house schedules will also let you know days when it is female or male-only. Most of the time, the pools are integrated and swimsuits are required. If you forget your swimsuit, you can rent one when you buy your ticket.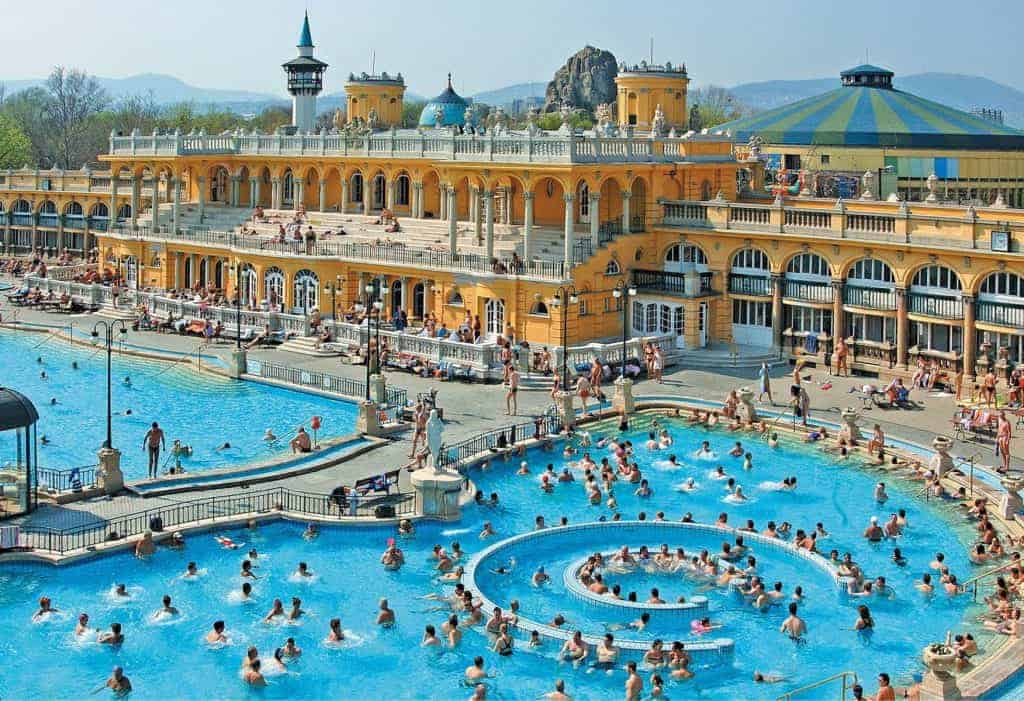 The thermal baths have long been visited for their healing powers. Even some locals frequent these places with a doctor's note. The minerals in the water along with the heat provide soothing to muscle pain, better circulation, stress relief, and more. Many of the minerals in the water such as magnesium, calcium, and sulfate are minerals many people lack. The body can absorb these minerals through the skin for a healthier you. You will feel renewed and rejuvenated, especially after a bar crawl evening. The waters help loosen your lungs to breathe better. They can also help skin conditions like redness, flaky skin, and even eczema.
Budapest has many different thermal spas, each with its own history. Gellert Bath is one of the most famous in Budapest. The inside gives you the vibe of a cathedral with stained glass windows and porcelain tires. Besides pools, the bathhouse also has saunas, massages, and a steam room. Make the outing more unique by soaking in their red wine pool. Lukas Bath is a long-standing thermal spa in Budapest. It has all the wellness facilities you can think of from underwater massage to weight baths to an outdoor hot pool with a small river. Rudas is a newly renovated bath with a rooftop panorama pool to view the Pest skyline. Rudas is also one of the few places to offer single-sex days. Most weekdays are for men only. If you need some help in organizing your thermal spa activity, just drop us an email.
Things to do in Budapest and Tourist Attractions
Budapest has many great sights that you must see before you leave. I suggest you narrow your sightseeing to a few sights mentioned here or to a type of sight. Budapest has fantastic architecture, beautiful parks and monuments, and amazing museums. With the age of the city, much of the architecture reflects roman styles. While the main sights such as the Buda Castle, the Basilica, Chain Bridge, Szechenyi Thermal, and parliament are great examples of this, anywhere you go in Budapest reflects its historical origins. If you have 2 hours between activities, then take a look at these sights.
Buda Castle is one of the most well-known tourist sites. It boasts a rich history and gorgeous architecture that is being restored from damages from World War II. St Stephen's Basilica is another. The cathedral has intricate mosaics and a 360° view of the city. Parliament may be difficult to get into, but worth every moment of waiting. You can take a guided city tour and even see the Hungarian crown jewels.
Budapest also has several museums. Among all of them, my personal favorite is the Hospital in the Rock which served as both a bomb shelter and an emergency hospital in World War II. The museum lies in the maze of tunnels underneath Castle Hill. Nestled next to the Museum of Fine Arts is a historical monument of Budapest. The Hero's Square is the largest square in Budapest with several historical statues.
Gellert Hill is another popular tourist spot. This geological fault line created many of the city's famous springs. Several monuments offer beautiful outlook points on the city center. You can also visit the Jubilee park with its beautiful sculptures and gardens. If you're looking for more parks, Margaret Island is an amazing place to visit. Along with its park, it also has ruins of a medieval building, the Union Monument, and a huge spa complex.
Budapest Stag Do Accommodation
Budapest has several options for places to stay. The big three are hotels, hostels, and apartments. While planning your Budapest stag weekend, it's important to keep in mind the number of guests, price, and how interruptive your stag group might be. A fancy hotel may be less pleased and accommodating if your Budapest stag do group is noisy and drinking. Choosing your accommodation is as important as choosing what your activities will be. Pick a location that is near public transportation or near places you want to go to. If you are planning to do some bar hopping, it would be good to pick a place near several bars that you can hit on foot.
Hotels can offer some advantages. Many of the hotels offer free continental breakfast. Hotels also keep your stag group easily together, especially if you book several months in advance. Hotels will have more services available than a hostel or apartment. If you are used to a high quality of living, a hotel will be right for you. If you are visiting during the summer, you should call the hotel to check if they have air conditioning.
If you are looking to save money, a hostel may be what you need for your Budapest stag do party. Depending on how large your stag do group is, you may need to contact the hostel directly to verify they have room for your group. Some hostels offer lots of stag weekend ideas like free tours or bar nights. Hostels can also be an amazing place to meet new people and make new friends.
Renting an apartment is becoming a new trend in accommodations. Companies like Airbnb allow you to rent an apartment and live like a local. Apartments are excellent for stag groups as they offer you privacy. While you will have to make sure of the size of the apartment, you will save money and give your stag group a place to celebrate without worry.
How to Get to Budapest from the UK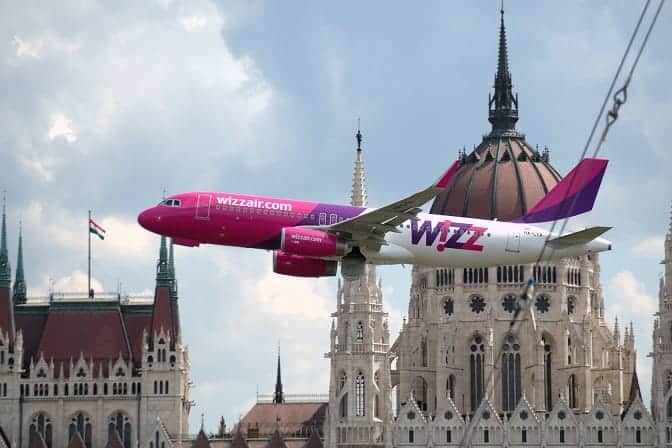 For stag do's, flying is your best bet. It can be cheap and fast, leaving more time for you to explore Budapest. To buy cheap airline tickets, there are a few rules you should follow. The number one rule is to use the incognito mode on your browser to view prices. Cookies allow ticket companies to view what tickets you've already looked at. They then increase the price every time you revisit their site or other similar sites. Another tip is to plan months in advance (it's necessary for Budapest stag do parties anyway). Tickets are best purchased at least two months in advance. Different airlines also offer cheaper flights than others. You may not have as many luxuries (like at British Airways), but you'll save your money for Budapest activities!

Hungarian Cuisine and Wineries for Stag Do Dinner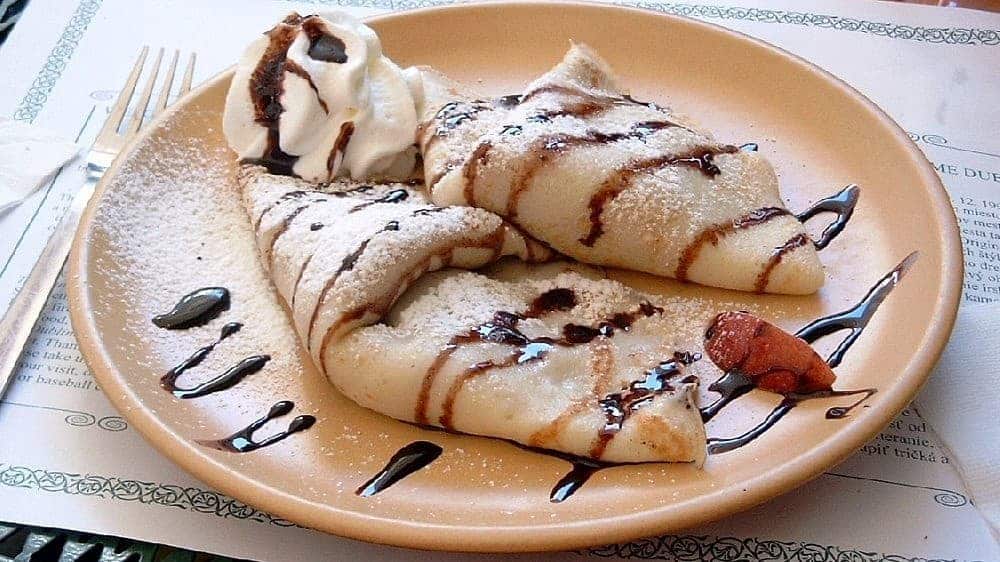 The foods of Budapest are some of the best foods you will ever try. From gulyas soup to paprikas to Gundel pancakes, you may come home looking for a Hungarian restaurant. Hungarian dishes are filled with spices and a variety of flavors. There are several dishes that you absolutely must try when you are on a stag weekend in Budapest. Or you can't miss an excellent steak house.
Goulash is a very traditional dish that falls in between a stew and a soup. Historically, it is cooked in a kettle over a fire and many restaurants stick with this cooking style. Goulash usually has carrots, potatoes, and a type of meat. Paprika is also generously added to the mix. Another Paprika inspired dish is Chicken Paprikash made with chicken, ochre, and onion. Most Chicken Paprikash comes with sour cream and a dumpling. Töltött Káposzta is another traditional Budapest dish. Minced pork, rice, and spices are wrapped in cabbage and cooked for a delicious and healthy meal. It's a delicious Budapest stag do dinner.
If you're looking for pastries, Budapest has lots of tasty sweets for you to try. Kürtöskalács are great as a delicious snack to enjoy during your day. You can find them in outdoor shops or festivals, like Sziget Festival. Dobos Torta is another delicious layered pastry. You'll melt between the layers of chocolate buttercream and sponge cake. Don't forget the caramel and nut topping!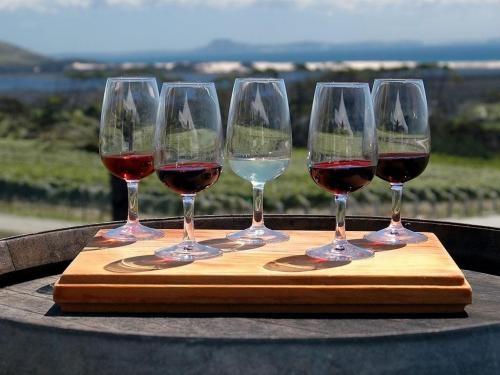 Budapest boasts some of the finest Hungarian wines. Tokaji Aszú and Bull's Blood are two of the most famous and most delectable wines. Tokaji Aszú is a sweet wine made from the Hungarian style of wine, noble rot grapes. Many of the great writers, composers, and rulers noted Tokaji as their favorite. Bull's Blood generates some controversy over the name, but the taste is to die for, it's a must-try for every stag do member. Bull's Blood is a delicious blend that began with the Kékfrankos grapes. And don't forget beers are excellent as well.
Practical, Local Tips in Budapest
Before heading to Budapest, there are a few things you should be aware of. The first is money. The Hungarian currency is forint. Any cash you carry into Budapest will have to be exchanged for you to use. However, credit cards are accepted in many places. Before you exchange your cash, check on the exchange rate. Places such as airports can charge more and you will get less bang for your buck.
Another important tip is language. While English is not the native language of Budapest, it is still common enough that you won't have too much of a problem communicating. However, it's always a good idea to have a few handy phrases on board like "Take me to," "Do you speak English?" and of course "Where is the bathroom?"
As for transportation, Budapest is a great walking city though Buda is much hillier than Pest. Public transportation and taxis are available as well as rentable bikes. Public transportation provides lots of access to the city and can be cheaper than taxis or bikes. If you want to save even more, buying passes for the transportation system will make it even easier to get on and transfer without having to buy more tickets all the time. If you need an airport transfer, we encourage you to choose our service. Also, we have an airport transfer back to the airport.
Taxis can also be a good way to get right where you need to without having to walk a long way. However, it's important to stay away from any independent taxis and only take ones with established companies. If you still want to enjoy the view of walking with less work, renting city bikes might be the choice for you.
FAQ
Where can you go on stag do?
We advise trying one of the 5 most popular activities: pub crawl, strip club, beer bike, thermal spa, and shooting.
Is Budapest good for stag do?
Yes, absolutely! Budapest became one of the most popular stag do cities in Europe. These are pure statistics! But the numbers can't bring you the experience.
What is there to do in Budapest at night?
The most popular night activities are pranks, strip clubs, and pub crawls.